Long and complex texts are hardly read to the end. Bulky content in one article post should be organized efficiently, conveniently, and understandably for readers. Converting a piece of text information into infographics will make it easy to absorb. We will tell you how to make awesome infographics without a designer.
Thanks to free online services, even non-professional designers can visualize information. Here I'll show you the popular infographic presentation builders with free versions. It's DesignCap Infographic Maker.
What is DesignCap?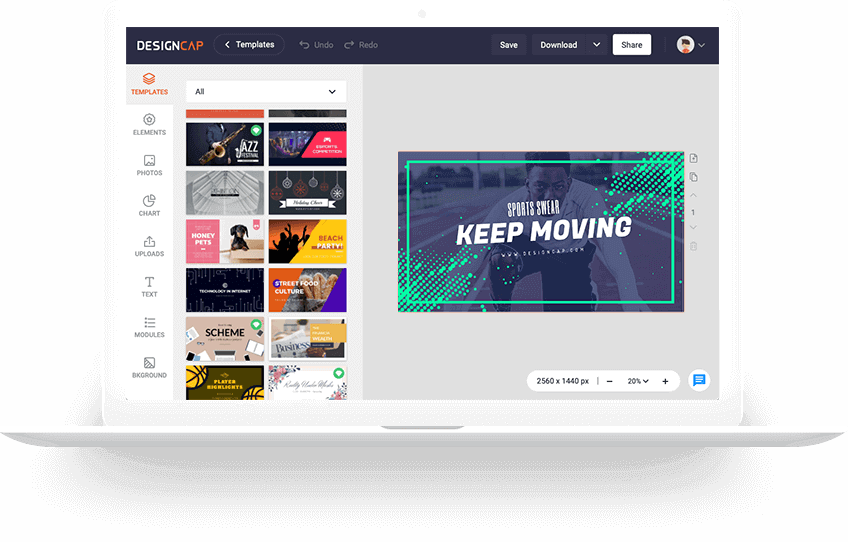 If you don't know anything about professional design, this is a great solution for creating your infographics. DesignCap has huge resources, including the millions of free stock photos, a vast number of shapes, more than a million icons, various charts, fonts, modules, etc. A set of fonts and flexible customization of all elements are enough to complete basic tasks.
With thousands of preset templates and intuitive interfaces, it is efficient for those who want to create graphic pieces without in-depth knowledge quickly. For beginners, simple guidance about how to use the tool will help.
Using DesignCap, you can:
create publications with ideal dimensions for images.
create graphics designs of presentation, chart, report, social media, infographic, etc.
use the large library of stock photos, elements, charts, preset text styles, modules & backgrounds.
fully control the customizable features.
save the design to the computer or cloud or share anywhere online.
Make infographics with three steps
You want to talk about the growth of a new project at the end of the year. Highlight the main theses, pick up statistics, sketch out a text with explanations. Then you can select a template for graphic presentation. Not all types of content can be presented graphically – statistics, interesting facts, manuals, guides, recommendations, and polls are better suited for infographics.
Step 1. Choose a template
Decide on goals and choose the main points that can be transformed into infographics. Comprehend them and draw conclusions. Then go DesignCap template mode and click the infographic category and pick the desired template.
Step 2. Get the elements customized  
Then filter out the excess so that there is no visual noise. Explain each image with short and minimum text. DesignCap allows you to customize your design with photos, text, icons, your logo, etc. Replace them in the default template and adjust the photo effect, text font, background color, and many more. Use your recognizable brand elements in your infographic design will help you increase your brand identity. To make it more flexible, DesignCap gives you the options to upload your own photos and fonts.
What I'd love to emphasize is its chart section. You can see various chart styles like lines, pies, dynamic maps, columns, etc. Choose a type and import your data directly from the file of CVS, XLSX, or XLS. Then adjust the values you want to display. In terms of its map chart, it is brilliant since it is integrated with a smart search tool. You can type a region name and press enter key to get the map of this area.
Step 3. Finish the design
The service allows you to download infographics in different formats, including JPG, PNG, and PDF. You are free to share it with your social media platforms like Facebook, Twitter, etc. With a sharable URL, you can also share the design anywhere on your website. DesignCap also allows users to print their designs directly out of the app.
Conclusion
Complex data, trends, and analysis can be quite challenging to explain to an audience in its raw form. Many presenters and analysts try to present such information using tables and charts. However, looking at the data in the statistical form with multiple legends and headings is not all that is easy for the audience to absorb. It is why using infographics can be a blessing for those who need to present data and trends in an easy-to-understand format.
Are you ready to make an infographic for your social media post or website article? Use DesignCap to present information visually. It will help you achieved awesome infographics with icons, diagrams, graphs, and pictures within 5 minutes, need no design knowledge.